Hand-Poured by Two Best Friends
The best part about Friendly Candle is the friendship that these candles bring. If you haven't been able to see us at markets around Ohio or Chicago, let's start this friendship right here and now when you buy one of our candles! Every candle is hand-poured with soy wax and essential oils and fragrances. 
Feel Good Candles
A candle company started by two friends with the goal of a greener earth. Every part of this candle is designed to be used, reused, and recycled. Our 100% all-natural soy wax ensures a clean, long 60+ hour burn. Each candle is hand-wrapped with seed paper, that when planted, grows wild flowers. Good for the environment and good for you.
We can't wait for you to smell us,
Devin and Jordan, Founders
Shop our scents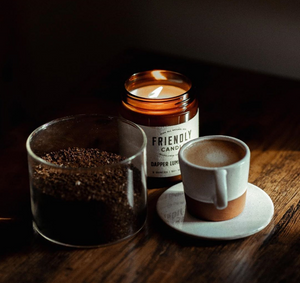 Blog
---
Stop. Take a deep breath in through your nose and think about what just entered your olfactory senses. Smell is one of the most powerful sensations humans experience, for better...
Candles are a great way to change the tone of an indoor space. They provide mood lighting, a sense of warmth and fill a home with a pleasing fragrance that...
No one wants a musty room. But sometimes, we get so accustomed to our surroundings that we don't even notice when things go sour. Luckily, fixing even the mustiest of...